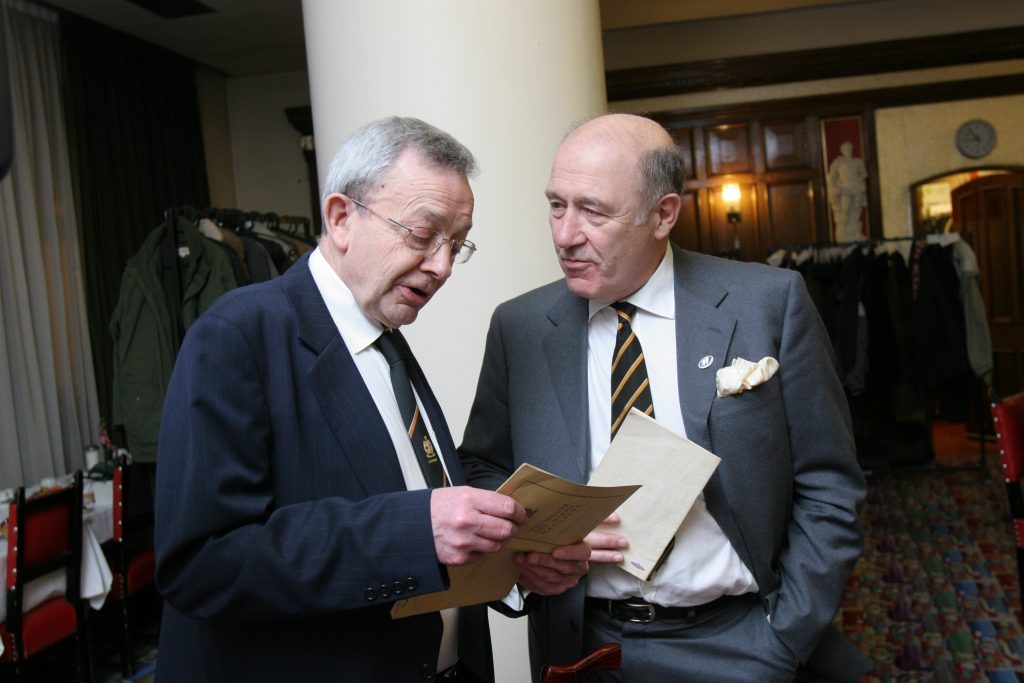 We are sorry to hear that Bill Heath passed away on February 8th at the age of 81. He was a great supporter of the school and old boys and was well known and popular.
He had been suffering from dementia for a couple of years. He was a great friend of Bill Mahoney and both joined WCS in 1950. Bill went on to university and took up law. He started his firm William Heath & Co in 1969 which is still going strong. Bill retired in 1999.
Bill was a regular attendee at WCS reunion dinners and a Trustee of the OWC Trust Fund for over 50 years. He served as a Governor for a some years when Norman Bunton – an equally great supporter of WCS – was Chairman. The Picture shows Bill on the left at the 2009 reunion dinner.
Bill was a great and very convivial character. There are so many stories and anecdotes, many to do with his T.A. experiences with 49 parachute jumps. For a few years after retirement he was a dance escort on cruise ships where he also had time for his love of painting.
UPDATE… Bill's funeral is to be held at 11am on Friday the 11th March at Lambeth Crematorium (Tooting) and afterwards at the Selkirk pub which is about 15 minutes away.
If you wish to attend please advise David Heath. David's email is davidheathuk@yahoo.co.uk and his telephone is 07802 942 786.