OWCA Latest News and Info
Treasurer
Ian Milne
89 Nightingale Road
Petts Wood, Orpington
Kent BR5 1BH
T: 01689 821302
Email: iandmilne@owca.org.uk




Secretary
Marc Maitland LL.B, LL.M. (Cantab)
25 Hazlebury Road
Fulham
London SW6 2NA
M: 07960 463853
Email: m.maitland@owca.org.uk








NEWS FROM JOCK HELM IN AUSTRALIA


Jock Helm (at WCS 1939 to 1945) has been in touch from Australia with the following news regarding Tony Betteridge;

Dear OWCA - Sorry to inform you that Tony Betteridge died just after Christmas. Apparently he had a fatal heart attack after having spent a very pleasant time with his family over the Christmas holiday.. This attack was quite unexpected as he had planned to come down to Melbourne for the Australian Open tennis which he has done for some years now. We usually managed to get together for lunch and a chat but sadly not this time.
I was at the school from 1939 to 1945 and was one of those evacuees who had 6 years at the school without ever having a lesson in Palace Street. My classmates included Bunny, Tony (Dicky) Richards and Alan Godsave. I do not know of any others of my year except John Perris, Peter Symons and Paul Clayton who are still alive which is hardly surprising as we are all now 90 years less young! Sad to hear of the loss of Mitcham, spent a lot of happy days there. However my best wishes to you and those who keep OWCA going.Cheers Jock.

Our picture shows a prefect's line up from 1945. Jock Helm is middle row 4th from the left. J (Tony) Betteridge Front row second from left. Two other OWCA legends are also in the picture 'Fanny' Wright Back row first from left and 'Bunny' Bunton Back row fourth from left.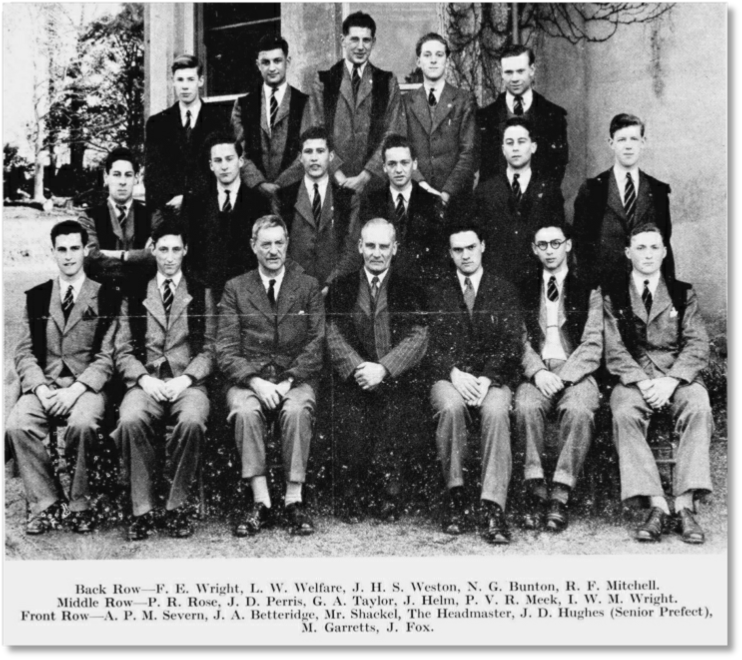 PETER BROUGHTON IS NEW HEAD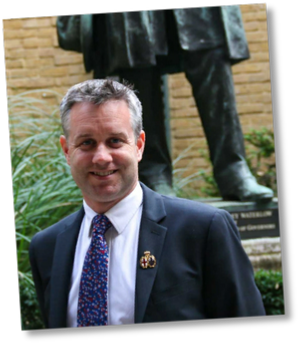 The Governing body of WCS have announced that Peter Broughton has been appointed Headteacher of WCS.
Peter Broughton joins WCS from St. Saviour's and St. Olave's Church of England School where he was Deputy Head.
He grew up and was educated in Guildford and read Theology and Philosophy at St. Andrew's University where he gained a Master of Theology degree in 1999. He started his teaching career in Japan and has over 15 years' experience teaching in London State Schools.
Commenting on his appointment to WCS, Peter said, "I am delighted to be joining Westminster City School at an exciting time in its development and look forward to working with staff, parents and governors to provide a world-class education for all students."
The Governors are also grateful to Ms Solani for taking on the role of Acting Headteacher for the autumn term of 2017 which ensured continuity and stability for the school community.
Peter is the 15th Head of WCS since the school was opened at the present Palace Street site.
Complete list is;
1877 – 1906 R GOFFIN; 1906 – 1930 DR.STEVENS; 1931 – 1950 J.DENT; 1950 – 1955 R.FEARN; 1955 – 1966 Dr. G. SHUTT; 1966 – 1972 S. ALDER; 1972 – 1984 J. WHITE; 1984 – 1988 D. GARVIE; 1988 – 1992 J. NOAKES; 1992 – 1995 M. BILLINGHAM; 1995 – 1998 J. HARDING; 1998 – 2002 J. TANTON; 2002 – 2013 D. MALONEY; 2014 – 2017 J. WILSON; 2018 – P. BROUGHTON.

© 2018 Old Westminster Citizens Association (all rights reserved) pages by NetStyle

Film producer Peter Gordon entered WCS in the mid 1960s and became a much respected producer and director of film documentaries. In 1991 he led a Yorkshire TV undercover camera team to East Timor, investigating Indonesia's occupation of that country and its independence movement.
What they filmed sparked world outrage and changed the course of that countries' history. Peter's cameraman captured footage of the Santa Cruz cemetery massacre in the capital Dili, where more than 250 pro independence protesters were said to be killed. The footage was hidden and smuggled out to Australia.
The documentary 'Bloodshot: The massacre of East Timor' was first aired on ITV in 1993 and went on to win numerous international awards. It revealed for the first time the scale of the killing by the occupying Indonesians.
He was finally awarded the ultimate recognition in May 2017 from East Timor for his work, receiving the Order of Timor Leste in Dili from the President Taur Matan Ruak. It was for his ' contribution toward Peace for the Timorese and Humanity'.
Timor Leste (East Timor) became Independent in 2002.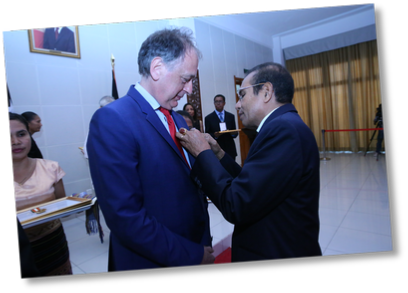 OWCA CELEBRATION LUNCH SATURDAY 22nd APRIL 2017
It was decided to change the format of the Annual Reunion event for this year and go for a more informal occasion with a Saturday lunch at a Central London Hotel. Old Boys were also encouraged to invite wives, girlfriends and partners to join them for the lunch. The result was that about fifty six Old Boys, friends and guests including twelve accompanying ladies gathered at the Royal National Hotel to reminisce about past 'golden' days and enjoy a few drinks before sitting down to lunch.
There were no speeches this year just a brief welcome from chairman Bob Blanchett that included the cause for a real celebration when Bob requested that the Old Boy who was about to get married in June should make himself known. Jock Henderson rose to his feet reluctantly to rousing cheers and hearty congratulations from all those present, particularly as his fiancée Cindy was by his side. Following the excellent lunch a large group of us went to the main bar to watch the cup semi-final. Much conversation and laughter followed. The dubious accolades for last to leave go to Andy Wallace, Jim Stewart, Chris Hare and his wife Denise who made it to closing time at 11pm!
Many thanks to all who supported the lunch by attending (full list below) with many making additional donations, which meant we were able to invite guests. Likewise thanks to Len Pullen,Marc Maitland, Terry Forester, Colin Bowen and Ray Turley who were not able to attend but still made a financial contribution. Pictures of thus hugely enjoyable occasion are now in the gallery.
OWCA will run a reunion event in 2018 provided there is sufficient support but the format, location and date has yet to be decided.
Attenders;
Ian Adam, Phil Barthropp, Peter Baseley, Bob Blanchett, Leo Brooks, Rob Bryant, Terry Densham, Chris Densham, Javid Djahili, Peter Donovan, Derek Duchemin, Christine, Duchemin, Mike Gee, Arthur Gray, Brian Halfacre, Chris Hare, Denise Hare, Bill Heath, Jock Henderson, Cindy Daubney, Jim Jelley, Stephen Johnson, Emma Johnstone, Bethany Johnstone, Wak Kani, Brian Key, T. Jim Laker, Janet Laker, John Lawrence, Bill Mahoney, Shirley Mahoney, David Maloney, Ian Milne, Harris Mir, Chandra Mutucamarana, Tony Norris, Pauline Norris, Rev. John Peart, Sharon Peart, Alan Reid, Derek Rogers, Dreena Rogers, Mike Sackett, Peter Saunders, Charles Smith, Pam Smith, Peter Solari, Phil Spalding, Helen Taylor, Paul Sparks, Jim Stewart, Peter Sutton, Andy Wallace, David White, Doug Wordingham, Sheila Wordingham.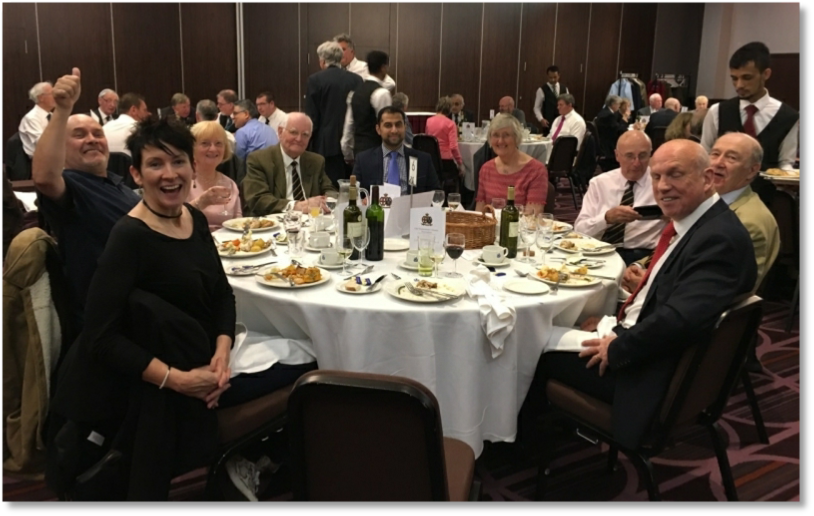 We seem to posting far too many obituaries these days. Sad news has reached us that much respected historian Stephen Humphrey died on November 30th 2016.
Born near the Elephant and Castle in 1952, Stephen attended WCS from 1963 – 1970. He was the author of eight books on the history of Southwark and worked for the Borough at Southwark's Local History Library for over 30 years before retiring in 2010.
He continued to write and lecture on the borough's history and had a column in the South London Press. He was also involved in numerous historical societies, projects and commemorative steering groups. His acclaimed book on the History of the Elephant and Castle, was published following 25 years research. His knowledge of that part of London was quite unique. Stephen was given the freedom of the Borough, along with actor Michael Caine, in 2012.
A regular attendee at OWCA reunion dinners, Stephen was an extraordinarily popular figure and many hundreds of people attended his funeral on 19th January at St. George's Roman Catholic Cathedral in Southwark.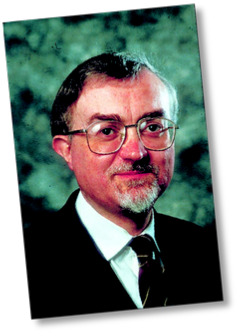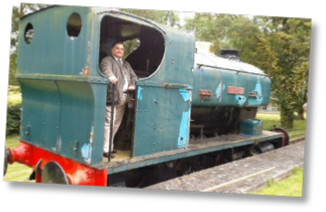 Barrister Marc Maitland (at WCS 1976 – 84) has served the OWCA well as association secretary and as a Trustee. He recently sold his home in Hazlebury Road, Fulham and moved north to Rippingdale, Nr. Bourne Lincolnshire.
In his spare time, Marc is a transport and, in particular, railway enthusiast. He also possesses a fine model railway. So, we imagine he has realised a dream by buying his own railway station home complete with track and steam engine. The Great Northern Railway station was built in 1872 but closed during the Beeching era in the early 1960s.
The station has been converted to living accommodation but still has many original features including track, engine sheds and a 1924 locomotive. The property was listed as one of the most unusual to be sold in 2016. So we wish Marc well and hope he doesn't go off the rails! Our pictures show the station and Marc on the footplate of his real life engine.

OWCA CELEBRATION LUNCH 2017
OWCA Celebration Lunch 2017
at Royal National Hotel, Bloomsbury, London WC1 on
Saturday 22nd April 2017 at 12.00 pm for 1.00 pm
Instead of having our usual formal Annual Dinner at the School on a weekday, this year we have scheduled an informal lunch on a Saturday at a central London hotel. Whilst the school is a nostalgic venue, the additional cost that we would have to bear has become prohibitive. What's more, for a change, we would like to welcome friends, wives and partners to the lunch as well. We have also chosen a later date when London will be a bit warmer!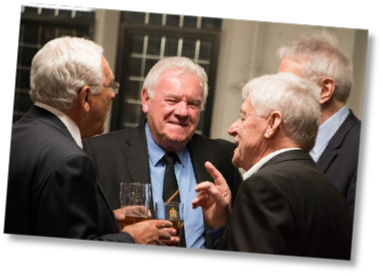 As revealed in the reunion lunch report, Jock Henderson will be marrying his long term partner Cindy Daubney on 8th July at Hammersmith Registry office at 11.30am.


Maybe Cindy will convince him to finally hang up his boots! Delighted for them both and wish them every happiness. Denise Hare took this great picture of them at the lunch.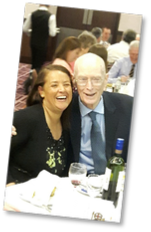 NORMAN 'BUNNY' BUNTON (updated post)
It is with great sadness that we report that Norman 'Bunny' Bunton died on Thursday 5th October.
He was 89. Bunny made an extraordinary contribution to OWCA, The Football Club and the school over some 65 years.
Norman's funeral was held on Wednesday 25th October at Beckenham Crematorium.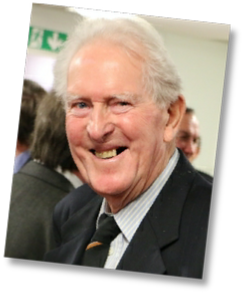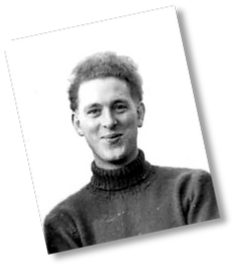 Norman 'Bunny' Bunton 1950
Norman 'Bunny' Bunton 2014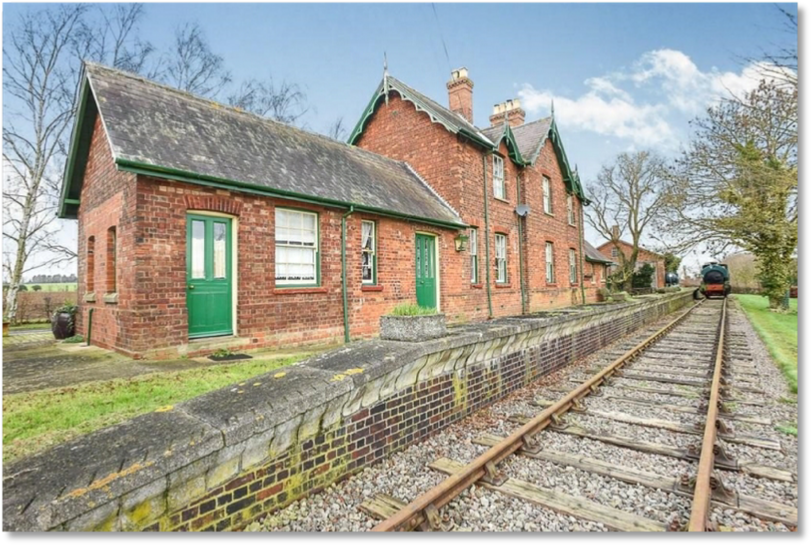 Well over 100 family and friends attended to give Bunny a fitting send off. Many OWCs and SAL past players were at the funeral reflecting the the great respect and friendships Bunny enjoyed.
During the service a section was allocated for memories from OWCA. A lovely reception was held afterwards at the Bromley Court Hotel hosted by Bunny's wife Anne and his son Chris and daughter Carol. There several 'Bunny's Rounds' were downed and memories of him abounded. We are sure Bunny would have approved.
A photographic tribute to Bunny will appear soon on the site – meanwhile his story is related in the memorable OWCs and news archive pages of this site.