2015 NEWS & INFO CONTINUED

Copyright © 2013 OWCA. All rights reserved. Website by NetStyle

Once again a hugely enjoyable reunion dinner was held at the school on March 22nd 2013. Some 60 Old Boys and Guests attended. The numbers were down this year. Perhaps the date was too close to Easter as we seemed to clash with other commitments for many of the regulars. Nevertheless a great time was had by all who made it. Special thanks to Chairman Bob Blanchett who again shouldered much of the organisation and promotion of the event, ably assisted by Ian Milne and Chris Hare. Pre dinner drinks were enjoyed in the dining hall where nostalgic stories and reminiscences were lubricated by a well stocked bar.
A top class four course meal was enjoyed, followed by Derek Short who updated us on the excellent work of the OWCA Trust Fund. Then Toasts and speeches from Bob Blanchett and, updating us on the school, WCS Chair of Governors Carol Rider. Chris Hare was pressed into late service to propose the final toast. He had already spoken at an after lunch in Romney that day. Chris spoke with great humour of past masters, old fashioned discipline and touched on his own academic achievements at WCS. The last topic shortened his speech considerably!
Attendees listed by table (as it may be easier to identify people in the galleries section), with years at school where known were:-
TABLE 1 - Edward Corry (1976-84); Derek Short (53-59); Allan T Elsey (Guest); Carol Rider (Guest); Bob Blanchett (61-66). WCS Sixth Former (Guest)
TABLE 2 - Ralph Debedic perks (56-63); T.J. Laker (56-63); David Garwood (48-54); Dr. Peter Pye (58-65); David Norris (OWC Lodge); Steve King (OWC Lodge and MC for the evening); Phil Clarke (OWC Lodge); WCS Sixth Former (Guest).
TABLE 3 - Norman Bunton ((39-46); Peter B Clarke (47-51); Charles Smith (46-52); Jock Henderson (48-55); Leo Brooks (Guest); Derek Rogers (53-60); Errol Baker (51-58) Len Pullen (52-58)
TABLE 4 - Peter Saunders (Master at WCS); Tony Harrison (Master); Brian Key (Master); Brian Halfacre (Master); David White (Son of head John White); John Daulat (Master); Alida McLaughlin (Guest); John Mason (Guest).
TABLE 5 - Michael Sackett (61-68); Mick Gee (58-65); Chris Hare (61-67); John Lawrence (60 - 67); John Douglass (63-71); Steve Leach (64-71); Ian Milne (55-63);
TABLE 6 - William Heath (50-57); Nigel Davies (53-58);Edual Salazar (guest); Frederick Steel (49-56); Alek Vilcinskas (49-56); Pip Bannister (49-56); Philip Rogers (49-57); Robert Goodlad (49-54); Peter Allen (49-57).
TABLE 7 - Chris Shepherd (54-60); Michael Harwood (54-60); Will McKee (54-61); Rob Bryant (53-59); Javid Djalili (71-77); Graham Harvey (70-77); Ricjard Shannon (74-77);
TABLE 8 - Stephen Humphrey (63-70); Charles Jobson (68-75); Philip Thomas (63-70); Paul Clarke (67-75); Ian Adam (63-70); Roger Cosson (63-70); W. Kani (63-71; WCS Sixth Former (Guest).
Thanks to Jack Bryant (43-49,)
Marc Maitland (76-84) and Tony Norris,
who couldn't make the evening but kindly
sent donations.


OWCA WEB SITE FORUM & JOHN HITCHINSON
Please check out the forum pages of this site. All can be read freely - you just have a simple registration procedure to post messages. Some unique memories on there especially from past teacher Don Spencer. Also news of Old Boys. We have a particular request from Laura Hitchinson, who is responding to a previous post asking for information about her father John Hitchinson, who attended WCS through the first part of the 1970s. If anyone can help please do so via the forum. Laura's message reads:-
'Hello, I'm his daughter. He passed away several years ago. I was wondering if anyone had any old photos as many of ours have disappeared through loss of family etc. He was a fat kid with auburn hair and became a very tall skinny kid with long auburn hair! Cheers, Laura.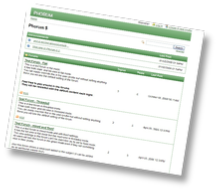 OWCs AND A CELEBRITY WEDDING
A 'soap' wedding had a rare happy ending in April when Coronation Street actress Helen Worth tied the knot in a star studded ceremony to teacher Trevor Dawson. Trevor was a student at WCS from 1968-1975. Three other OWCs were heavily involved with the ceremony. Trevor's brother Lawrence was Chief Usher. Best Man was Dave Boreham and Marc Maitland organised the music. Dressed in a green silk and lace Bruce Oldfield gown, Helen had a wedding that her Corrie character Gail could only dream of. The ceremony was held at St James's Church in Piccadily. Helen's on screen family were in attendance along with many other celebrities including Elaine Page. Our picture shows Marc Maitland along with Trevor Dawson and Helen at the reception which was held at the Ritz.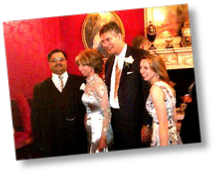 On the last day of the Football League season, Gary Alexander scored a vital goal which helped AFC Wimbledon remain in the football league. Gary entered WCS in 1990 and began his professional football career with West Ham. He was loaned to AFC Wimbledon of League Two from Crawley Town in January 2013. On the last day of the season the Dons were in the relegation drop zone and had to win at home to Fleetwood Town to stay up. Gary scored the opening goal with a header but Fleetwood equalised soon after. Salvation for Wimbledon came with a Jack Midson penalty. For a fuller account of Gary's career see the Memorable OWCs pages. When playing for Millwall he scored what has been described as the finest goal seen at Wembley stadium. It was May 2009 and Gary scored twice in the League One playoff against Scunthorpe United. Unfortuately for Gary, Millwall lost 3 -2. To see the goal click on this video below.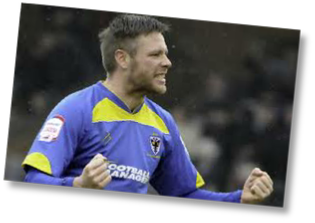 In January 2013, Barry Mitchell left his home near Brisbane and the heatwave in Australia, to visit London on a flying visit with his wife Corrine. They arrived in freezing temperatures some 35 degrees Centigrade lower than they had left behind. Beer and Curry was enjoyed by his contempories at WCS in Wimbledon. All pictured here joined the school in 1961. Left to right - Barry Mitchell, Chris Hare, Alan Reid and Angus Litster. Angus would like it known that his dark hair was the result of an appearance in a local pantomime. The dye hadn't worn out!
A few weeks earlier OWC football club 'legends' gathered at a lunch hosted by Malcolm and Valerie McLean at their home in Marden, Kent. Pictured Left to right - Bill Mahoney, Malcolm McLean, Chris Hare, Tony Brooks.
And not to forget the footballer's WAGS! Left to Right - Val McLean, Micki Brooks, Denise Hare and Shirley Mahoney.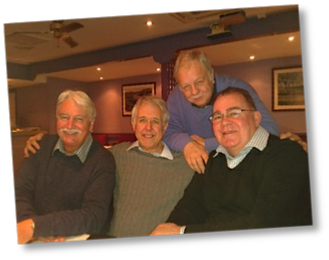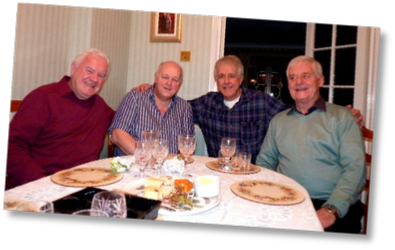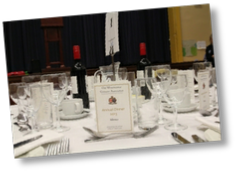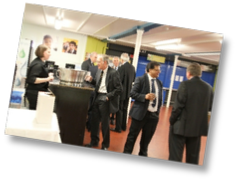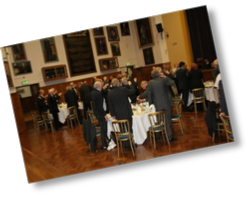 HEAD TEACHER DAVID MALONEY TO RETIRE
The Association is now on facebook. Just put Old Westminster Citizens in the search and ask to be its friend! A good way to share pictures and news direct from your P.C.

David Maloney (pictured here speaking at an OWC dinner with Jim Jelley to his right) will be retiring at Christmas this year after 11 years of distinguished service as Headteacher of Westminster City School.
Governors will now start the search for Mr Maloney's successor. In the interim governors are very pleased to announce that James Wilson, Deputy Headteacher, will assume the role of Acting Headteacher for the Lent and Trinity terms 2014.
For further information please follow the link on this site to the school's web site.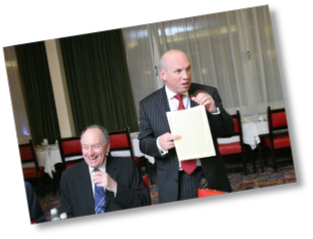 PROFESSOR MATTHEW KAUFMAN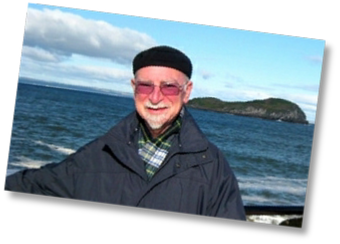 We are sorry to report the death on August 11th of Professor Matthew Kaufman. At WCS from 1953 to 1960, he was a pioneer of stem cell therapy. Matthew developed world-leading practices through working with mice. He was the first to culture the embryonic stem cells of the small rodents and cultivate them in a laboratory. The academic went on to produce The Atlas of Mouse Development – an internationally regarded textbook on the subject of mouse embryology. His works also included a host of papers on medical history, including anatomy teaching in Edinburgh in the 18th and 19th centuries. For further information, see his entry in 'Memorable OWCs.'

Phil Spalding, a student at WCS from 1969 - 1975 has been in the news recently.
Phil, now 55 is a successful bass player who has performed with Mick Jagger, Kylie Minogue, Robbie Williams, Elton John, Seal and many more. However he has been through a desperate time in his personal life. We are delighted to report that he has conquered his demons and now gives great help and inspiration to alcohol and drug sufferers.
Aside from Bass playing, Phil spends time working as a Hepatitis C adviser with an organisation called Swindon and Wiltshire Alcohol and Drug Service. He was recently involved in the organisation when hundreds of people from The Salvation Army's centres for homeless people had the opportunity to learn football skills from Peter Shilton OBE, the most capped England player of all time. This took place on Thursday, October 10, as part of a five-a-side football tournament in Birmingham. Peter Shilton presented the trophies to the team from Logos House in Bristol, who won the final match against last year's winners, Booth House in London 2-0. He also ran a penalty shootout master class for the competitors from the Army's Lifehouses in the afternoon. Throughout the day he was on hand to offer guidance and support to the teams taking part and gave an overview of his career in the afternoon. Shilton suffered with a gambling addiction which he overcame.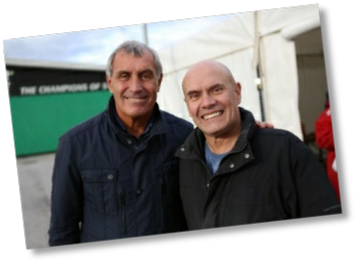 Phil Spalding, as a former drug user, also shares his own experiences to groups. Phil became addicted to a range of narcotics, such as heroine, cocaine, valium, cannabis as well as alcohol. It was a long painful journey. The realisation he needed to break his addiction came in 2005 and Phil attended Gloucester House in Highworth, near Swindon and went on a 21-day detox. This October 21 2013, Phil will have been clean for eight years.
Phil relates; "The light bulb went on for me when I was in court for petty drug-related crime – although no crime is petty – but I knew then that I needed to get help. I want to let people, who have gone through similar situations to what I did, know that you can come out of it. I came out of it, and you can have a fulfilling life afterwards and do something worthwhile. I know what drug addiction is like, and thanks to The Salvation Army, I have come through it and my life has changed for the better."



Sadly we have to report the death of two OWC's. Both were excellent footballers. Our condolences to their families.
JOHN COMLEY has died from a heart attack aged 76 at his home in South Carolina. He entered WCS in 1949. John grew up in Kingwood Road, Fulham and was a lifetime supporter of Fulham FC having seen his first game during the War. After the League restarted in 1946 he became a passionate Fulham Fan until the end of his life, even e-mailing his friends with his opinion on FFC's purchases in the transfer market just minutes before he died.
John played with great distinction for OWCFC scoring over 100 goals for the 1st Eleven and represented the SAL before leaving to work in the USA in 1965. The colour picture shows John in 1965 in the team that won the Surrey Senior Cup. He was a great friend and work colleague of his contemporary Jock Henderson.John returned to UK in the late 1960s then settled permanently in the USA in 1972. .He is survived by his wife Connie and daughter Priscila.
JOHN HALL - We have been contacted by John's wife Angela Hall who informs us that John passed away on 11th November 2013 having suffered from pancreatic cancer. John joined WCS in September 1961.After leaving WCS John went on to study PE at St Paul's College, Cheltenham. As a pupil at WCS John did not cover himself with glory academically, in fact one comment in his report book said that, 'he is not able enough for a grammar school'. However John proved the doubting teacher wrong and went on to become a very successful Headteacher of a challenging comprehensive school, gained a BA and an MA degree and was a qualified Ofsted Inspector.
John learnt to fence whilst at school and went on to fence for his country. Sport was his passion and he participated in one form or another until the end of his life. He was passionate about education, was an inspirational leader and educational pioneer. He was pleased to have been reunited with WCS teacher Peter Baseley who had taught him technical drawing and corresponded with another Master, Brian Halfacre who provided him with the not so good school report!
Despite his illness, John defied the odds by living life to the full for almost two years from his diagnosis. John was married with two children and lived in Staffordshire.

Chris Burrill (at WCS through the 1960s) now lives in Australia. The picture shows Chris and other OWCs at a recent wedding in Melbourne.
From left to right (front row) -
DAVE KEBBELL, CHRIS BURRILL, CHRIS CAMWELL and bride ARI CAMWELL, DES McGELLIGOT and DARREN THORNE.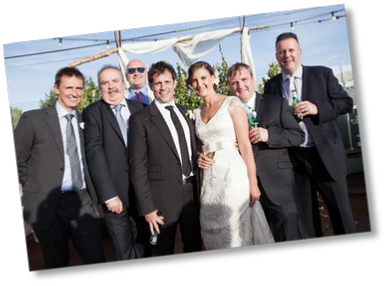 GREAT SPORTSMAN MEETS… MIKE GATTING!
Angus Lister (at WCS 1961-68) is pictured here in the Long Room at Lords with cricketing great Mike Gatting. 'You must have a double,' said Mike. And they did! Incidentally, Angus is on the left of this picture.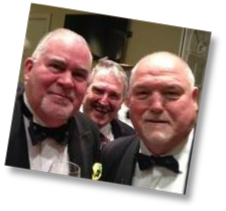 JAMES WILSON APPOINTED HEAD
Following the retirement of David Maloney, the Governors have decided to appoint James Wilson as the new Head of Westminster City School. James has been Deputy Head for several years and Acting Head since David's departure last December. We wish him well.
James is the 14th Head of WCS since the school was opened at the present
Palace Street site in 1877. The complete list is; 1877 - 1906 R. GOFFIN;
1906 - 1930 Dr E. STEVENS; 1931 - 1950 J. DENT; 1950 - 1955 R. FEARN;
1955 - 1966 DR. G. SHUTT; 1966 - 1972 S. ALLDER; 1972 - 1984 J. WHITE;
1984 - 1988 D. GARVIE; 1988 - 1992 J.NOAKES; 1992 - 1995 M. BILLINGHAM;
1995 - 1998 J. HARDING; 1998 - 2002 J. TANTON; 2002 - 2013 D. MALONEY;
2014 - J. WILSON.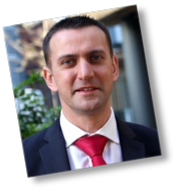 We have just heard from Valerie Haswell that another of the 1960s generation passed away on 13th March, a victim of cancer which caused kidney failure. Gordon joined WCS in 1961 and went on to play football for the school and OWCFC. A great character, he was hugely popular. We hope to post a fuller obituary in time. Pictured is 'Ossie' in an OWCFC X1 on tour in Amsterdam at Easter 1974. The line up is Back Row; McLean, Hare, Kehoe, Collins, Tyler, unknown, Ruddy, Boyce. Front; Chandra, Douglass, Milne, Haswell, Reid.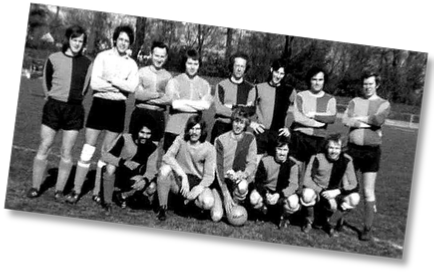 Richmond Amoah left WCS in 2011. An excellent student, he gained remarkable GCSE results and recently embarked on an Economics degree at the University of York.. He has recently contacted the association for financial help with a truly worthy cause. This summer (2014) he will be working as a volunteer for 10 weeks as part of the International Citizen Service. During the placement, Richmond intends to make a real difference to rural Indian Villages where he will be living within and helping a local community to enhance their basic sanitation levels. This includes improving access to clean water and building sustainable water irrigation systems. As part of the programme, Richmond will be fundraising to help the charity Raleigh International Combat Poverty in India. Any financial help for this 'Old Boy' from us 'Older Old Boys' would be much appreciated. It's a great cause and congratulations to Richmond for getting involved. His fundraising page is https://www.justgiving.com/richmond-amoah Be great if OWCs could help him all we can.

PAST MASTERS DISCOVERED ~ OLIVER TROWELL

PAST MASTERS DISCOVERED ~ PAUL ZEC

PAST MASTERS DISCOVERED ~ BRIAN RAYNER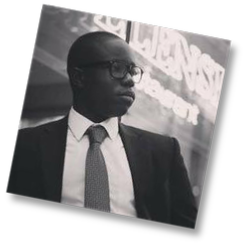 OWCs who attended WCS in the 1960s will remember art master Oliver Trowell. He was born in London in 1927 moving to Brabourne in Kent at the age of seven. Due to the war his formal education was interrupted, resulting in his formative years being spent working on the land rather than sitting at a school desk. At 21 he decided to train as an artist and teacher of art at Dover and Brighton Colleges of art. Married with five children; two boys and three girls, his career has been spent roughly half and half between teaching and as a free lance artist. Teaching at first in Essex was followed by his Head of Department post at WCS. He left WCS for The King's School Canterbury before becoming a full time artist. He still lives and works in the same house which he has lived in for nearly 80 years. Oliver is still very active in the art world and has his own art publishing company Manor Farm Publishing. In 2013 he published his written and illustrated memories of farm life as he experienced in the 1930s and 40s. The book is titled 'Before the Combines Came,' For more information visit www.manorfarmpublishing.com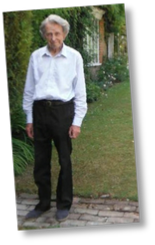 OWC Chris Hare recently met up with Paul Zec who taught history at WCS in the mid 1960s. They met by chance at a Jazz weekend in Sussex where Paul was playing a cool jazz saxophone. Chris is the dodgy pianist in the photo. WCS was Paul's first teaching appointment, he was only 23 at the time, but made his mark at our school. One quote from student Mike Dobson of that time is "Paul Zec had the enormous ability to interest me in history." Which apparently was quite a feat! Paul is a fine musician and is the son of world famous writer Donald Zec who, incidentally, is still going strongish at 95.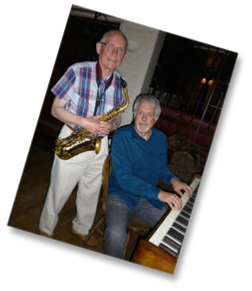 In conversation with Paul Zec, Chris Hare discovered that Paul has recently been in e-mail touch with Math's teacher Brian Rayner, who taught at WCS through the 1960s until 1972. To be honest, Brian (nicknamed Bert) Rayner was not everyone's favourite. One of his teaching colleagues tactfully describing him at a reunion dinner when pressed as "over the top on discipline." In fact Chris, who certainly wasn't his favourite pupil, tells us that he visibly winced when Paul mentioned his name and panicked to remember The 'Angle at the Centre' Theorem, which 'Bert' Rayner made him write out 25 times in 1964!
Our picture shows Brian Rayner in the staff line up of 1963. Brian Rayner left WCS for a Head of Maths position at St. Mark's Comprehensive in Fulham. He left teaching altogether in 1979 for a successful sales career marketing copiers. We believe he currently lives in West Berkshire near the Surrey border town of Frimley and is still working, self employed with a small copier company in Sheffield. A talented musician and pianist, he is remembered for those thunderous renditions of hymns in assembly when Joe Long was indisposed.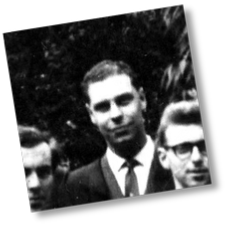 Brian is still very much involved with music and in demand as an organist at local parish churches.
In the 1960s, Brian Rayner co-wrote a Maths instruction book called Westminster Maths with fellow WCS masters Alan Whitcombe, Peter Saunders and Brian Halfacre. Sadly Alan Whitcombe died around 1989, however, we are delighted that Brian Halfacre and Peter Saunders are still regular attendees at the annual reunion dinner. We now have Brian Rayner's e-mail and the association will contact him in case he wants any of our contacts. Perhaps he can be persuaded to attend next year's dinner. Chris tells us he will re-learn those theorems just in case!



PAST MASTERS DISCOVERED ~ BRIAN CHUBB
We are delighted to report that Sports Master Brian Chubb has recently been in contact. Brian was an extremely popular teacher at WCS during the first half of the 1960s and is pictured here in the 1963 staff line up. A very talented footballer, he was on the books of Millwall and played for Hendon, then a leading Isthmian league team, equivalent of the Conference today. Brian was a tremendous all round athlete – he gave amazing demonstrations on the trampoline in the playground. It is believed the then Head Dr. Shutt ordered him to stop because it was causing too much of a distraction! Brian coached an extremely successful School football team which developed such as goalkeeper Barry Mitchell, who made his Hendon debut at the tender age of 14, the youngest ever player in that league. Barry went on to play for the SAL and FA elevens. From that era, Tom McCardle, Ian Savage and Barry all represented London Schoolboys. Kim Reynolds, the WCS 1st X1 captain played for Chelsea Juniors. Brian offered encouragement and first class coaching to all in return for a keen attitude. He arranged for a WCS team to go on tour to Holland in Easter 1965, one of the first football tours undertaken by the School. He even fixed for us to travel first class – really top organiser. Brian left WCS around 1966 but had disappeared off our radar until now. Chris Hare returned from a trip to the Lake District in July to be amazed to hear Brian's voice on his home voice mail. This some 48 years since they last spoke!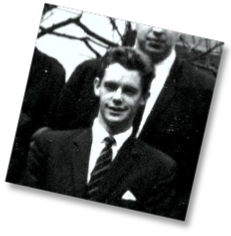 Brian had heard about the OWCA Centenary book written by Chris and wished to get a copy. Brian now lives in Driffield, East Yorkshire and has enjoyed a successful career in education rising to be a Head Teacher. We have asked Brian for more information and a recent picture which we hope to put on the site soon. Brian has happy memories of WCS and has expressed interest in attending a reunion – so hope it happens as the 60s 'sportsmen' will all want to meet up with him again.
Chris Hare in conversation with… NORMAN 'BUNNY' BUNTON
OWCA Life Vice President Norman 'Bunny' Bunton has made an extraordinary contribution to OWCA, the OWC Football Club and the School. I thought an internet tribute to the great man was well overdue. So, at a veteran footballer's lunch at Shortlands Golf Club in July, I arranged to meet him ahead of the lunch and attempt to get his full story for his many OWCA fans!
Bunny was born in Camberwell on 1st April 1928 and has been fending off April Fools jokes ever since. His father was a milkman and Bunny has lived in South London all his life. He showed early academic promise and passed the necessary tests to enter WCS, which he did at an extraordinary time in history. Bunny's first day at WCS was 1st September 1939, just two days before war was declared. He arrived in Palace Street with a case of clothes in one hand and gas mask in the other to be immediately evacuated to Edenbridge, Kent. Fortunately Bunny was taken in by a loving family, the descendants of whom he is still in touch with today. He says Kent, or bomb alley as it became known, wasn't the safest of places to be evacuated to. The skies above were filled with aircraft dog fights during the battle of Britain and often German planes would off load excess bombs over them on their way home from raids on London. WCS joined forces with Judd School in Tonbridge and Bunny remembers playing football on their playing fields and being strafed by machine gun fire from a German plane. Fortunately no one was injured. Later in the war, with the new threat from flying bombs, the School moved to Exmouth in Devon. Bunny returned to the bomb scarred WCS with the School for the autumn term of 1945 and spent the last year of his time at WCS in Palace Street.
Bunny wished to follow a career in Science but National Service had just been introduced. So in January 1947, Bunny was called up to serve in the RAF to train as a wireless and radar mechanic. He actually had an idyllic time as a National Serviceman. After basic training he was posted to Malta. They finished 'work' at 1pm everyday and the rest of the time was spent enjoying the Mediterranean climate, Maltese hospitality and playing sports. He was demobbed in April 1949 and got a job working for a carbon products company who gave him day release to study and obtain a degree in Chemistry. He moved on to work in the Assay Office of the Royal Mint from 1952 to 1960. In 1960 he joined the Laboratory of Government Chemistry where he became a senior Chemist working on many projects including food nutrients. His published research is still available on the internet. Bunny remained at the Government Lab for 28 years before retiring in 1988. He married Anne in 1954 and they have two children; Chris (who played for OWCFC) and Carol (who didn't!) Bunny celebrates his 60th wedding anniversary this year.
Bunny made his debut in goal for OWCFC in the 1949/50 season against Kew Association. He played for the first eleven until 1952, when the great Gil Page appeared on the scene. Gil was a quite outstanding keeper who played for the SAL and the FA. Gil was also in goal when OWCFC became the first Old Boys team to win the SAL Championship in 1958. Bunny played regularly for OWCFC until around the 1967/68 season, playing his last game for a vets side in the late 1970s. Bunny was also a talented cricketer and played regularly for the Old Boy's cricket team which sadly disbanded during the 1980s. He was involved with running Mitcham and the bar for some 50 years from the late 1950s up to around 2009. A truly remarkable dedication to the club, which generations of footballers have benefitted from. The OWCA Centenary Dinner in 2008 provided the perfect opportunity to make a presentation to Bunny to acknowledge his 60 years of massive contribution of time and effort to OWCA. In 2008, Bunny was made President of the Southern Amateur League. Bunny has been involved on numerous OWCA committees and was also, until last year, a trustee of the Old Westminster Citizens' Trust Fund which does so much to help fund extra School activities. He was a WCS Governor and became Chair of Governors through the 1990s where he successfully steered the School through probably the most difficult time academically in the School's history. When pressed to name his greatest footballer through his 65 year association with the club, he says it has to be Gil Page. A goalkeeper who could have made it to the top of the professional game 'if he had been a couple of inches taller' and had he not enjoyed the camaraderie of OWCFC so much! At this point in our interview, the call came that the lunch bar was open and so Bunny and I enjoyed our first pint of the day. A tremendous character and it's always great to be in his company. Thank you so much for everything Bunny - long may you be involved with OWCA.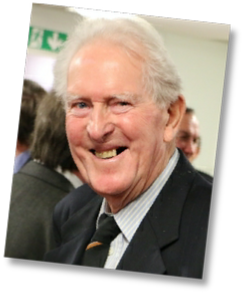 On Friday April 4th 2014 over 100 Old Boys, current students, past teachers and guests attended another hugely enjoyable reunion dinner. Held again at the School, memories were recalled and friendships renewed from 6pm. Frankly, the older we get I think the better we were! An excellent four course meal followed. It was James Wilson's first reunion dinner as Head and he brought us up to date with the School's progress. Marc Maitland OWC responded and toasted the school. On the 'past teacher's' table were Peter Saunders, Brian Halfacre and Brian Key, who between them amassed over 90 years of teaching time at WCS. The well stocked bar was very well patronised and the last to leave stumbled out around midnight. A really great night – pictures are in the gallery section. If you missed this one please try and make it next year – the date has yet to be set but is usually around the last Friday in March. Attendees are listed here by table so that it is easier to marry up the pictures with table numbers and see what effect the passing years have had on old friends! Thanks as ever to Bob Blanchett for shouldering so much of the organisation of the dinner. He also arranges all the menu printing and liaison with the School and caterers. Chris Hare stepped in as toast master and thanks also to Ian Milne for collecting the money.
Table 1 – Bob Blanchett (OWCA Chair), Derek Short (Trustee), Edward Corry, Jacob Howe, James Wilson (Head), Jim Jelley, Marc Maitland (OWCA Hon Sec and Trustee), Pim Salou, Robert Short, Valeria Garcia Rios.
Table 2 – (The late 1940s' thru first half of the 50s' OWC students)Charles Smith, David Garwood, Derek Rogers, Doug Wordingham, Frank Busby, Jock Henderson, Leo Brooks, Peter Allan, Pip Bannister, Ray Crampton, Robert Goodlad, Tony Norris.
Table 3 – (The second half of the 1950s' students) Bill Mahoney, Chris Shepherd, Ian Milne, Len Pullen, Michael Harwood, Philip Rogers, Ralph deBedic Perks, Robert Bryant, William Heath.
Table 4 – (The late 1950s' and the 60s' students) Alan Reid, Angus Litster, Bernard Jacobs, Chris Hare, John Douglass, John Lawrence, Michael Sackett, Peter Ruddy, Michael Gee, Steve Leach.
Table 5 – (The most senior attendees, students at WCS from 1939 - Allen and Bunton - through to the dawn of the 1950s') Arthur Allen, Arthur Gray, Bill Hill, Colin Bowen, Derek Duchemin, Don Lunn, Harry Branchdale, Norman Bunton, Peter B Clarke.
Table 6 – ( Past teacher's table including David White the son of Head John White) Brian Halfacre, Brian Key, David White, John Edwards, John Mason, Peter Saunders, Stephen Lloyd, Tony Harrison.
Table 7 – (the 1970s' through 1980s' WCS students and current OWCFC footballers)Andy Spinks, Andy Wallace, Jim Perrin, Jim Stewart, Julian Humphreys, Lew Keeble, Simon Leahy, Simon Robins, Steve Riley.
Table 8 – (A mix of 1960s' through to 70s' to recent students) Colin Harwood, David Waite, Jonathon Denton, Nowel Paynter, Phil Spalding, Philip Mason, Roger Cosson, Trevor Battersby, Wak Kanyi
Table 9 - (Mainly 1970s' students and guests) Andrew Ohl, Ian Sievwright, Javid Djalili, Ken Milton, Manuelle Cogni, Mark Burford, Paul Sparks, Rajiv Rao, Richard Shannon.
L to R Bill Mahoney Chris Hare Norman Bunton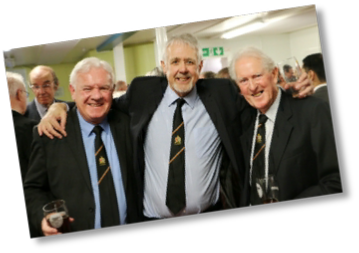 INTERESTED IN PREVIOUS NEWS ARTICLES? PLEASE VISIT OUR NEWS ARCHIVES

This team photo was taken at Fulham's home ground Craven Cottage in 1953 or '54, of amateur club Hartsbury FC who were playing in a local cup final. The OWC connection is the little lad in the front of the picture acting as team mascot. It is Barry Mitchell who attended WCS from 1961 to 68. Barry's father played for the team and is second from the right in the back row. Another connection is John Sage who is at the far left in the back row and was a business associate of Peter Ruddy (at WCS 1952 to '59.)
Barry's football career as a goalkeeper is well documented on this site – London Schools' representative and a debut for Hendon, then in the Isthmian league (equivalent of the conference to day) at just 14 years old. He was the youngest ever to play at that level. Barry went on to have trials for Fulham and at one point Arsenal were interested in him. However Barry decided to stay with OWCFC and gained representative honours with the SAL and the FA X1. He now lives with his wife Corrine near Brisbane, Australia.
The picture was found by Barry's cousin Diana Brittan who forwarded it to us. On contacting Barry, he sent us a picture of the boots he wore that day which he still has. He also remarks on the leather ball in the picture saying that when it got wet, it weighed more than he did.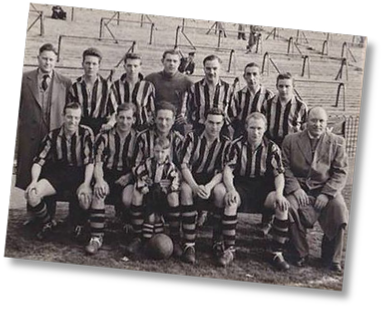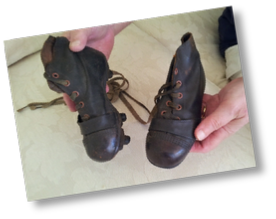 HAMILTON ON THE BIG SCREEN
Andy Hamilton (at WCS from 1965 to 71) along with his co-writer Guy Jenkin, have taken their smash hit TV show format 'Outnumbered' and brilliantly adapted it for the big screen. The result is 'What We Did on Our Holiday.' It is a brilliantly entertaining and emotional movie, full of great laughs and wonderful human observations. As one reviewer wrote 'It is impossible not to enjoy this big-hearted, sweet natured and quite hilarious British family movie.' No doubt Andy is heading for yet more awards to add to his many other achievements.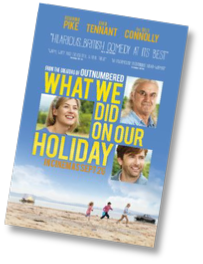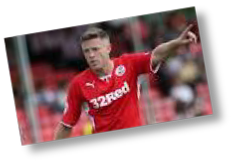 Gary Alexander entered WCS in 1990 and has been our most successful footballing old boy. His career saw him play for ten football league clubs making a total of 545 appearances scoring 156 goals. For further information and video link see memorable OWCs section of the site. Gary finished a loan spell at League 2 Wimbledon at the end of the 2012/13 season. He scored a vital goal on the last day of the season against Fleetwood Town which kept Wimbledon in the football league. Last season he returned to Crawley Town before signing for Burton Albion in January 2014. He made 7 appearances for the Albion before being released in the summer. Now 35 years old and at the veteran stage for a striker, Gary decided to retire from football. However…the lure of the game must have proved too much as he has recently caused quite a non league stir by signing for ambitious semi pro Greenwich Borough FC, who play in the Southern Counties Eastern League. Their home matches are played at the 4,000 capacity Princes Park Stadium in Dartford. So far, as at mid October 2014, Gary has made 11 appearances for Greenwich netting 4 goals.
The only other full time professional footballing OWC that we know of is Leslie Parodi. He played for Bournemouth FC for two seasons in 1973/74 and '74/75. Leslie made 49 league appearances and scored 2 goals.

Sad news has reached us that Peter Hetherington has died at his home in Spain. Peter attended WCS through the late 1940s and went on to enjoy a long playing association with OWCFC. He was a member of the SAL championship winning side of 1958. Other OWCFC trophies won by teams which Pete played in include Old Boy's Cup winners 1961 and Surrey Senior Cup winners 1965. Peter also gained representative honours playing for the AFA X1. The four pictures are: Peter in the School first X1 1949. The championship winning team of 1958, (Peter front row first on the right) and the Surrey Senior Cup winning team of 1965. (Peter third from right back row.) Peter raising a glass in his Spanish restaurant. We hope to post a fuller obituary soon, covering his time in the UK before emigrating to Spain, meanwhile below is how his passing was reported in the English version of Euro News.
'PETER HETHERINGTON, who has passed away became legendary some 10 years ago with the opening of his restaurant on Indalo Mountain - the Oasis. Getting a reservation for one of his Sunday roasts required knowing someone with 'influence' to book your table. It soon became the place where everyone wanted to be seen. The atmosphere was light and Peter enforced the rules. He wandered from table to table wearing his familiar Bermuda shorts under his apron. Welcoming and generous to all.
Peter was a keen trekker and helped originate many enjoyable jaunts into the Sierra Cabrera and beyond. It was worth risking body and limb just to make it for the 'after the walk' parties that were outrageous with good common fun. His trusty dog Jasmin near his side, he knew all the back trails around Mojacar, Turre and SoPalmo. On the way you learned about flowers and history. Up until a year ago he was the early morning greeter at bar Los Arcos sharing a coffee and chilled Ponce as he met early morning arrivals with a warm smile.
He is survived by wife Ana from Garrucha and son Oliver, now in England and brother Alan.
Adios Peter, a true pioneer, adventurer and a large building block of Mojacar's past.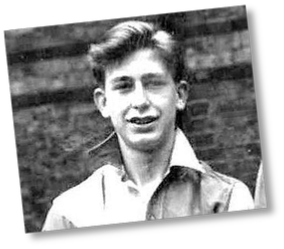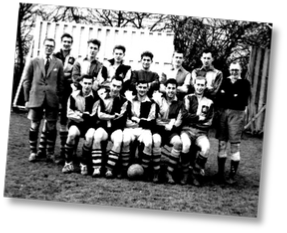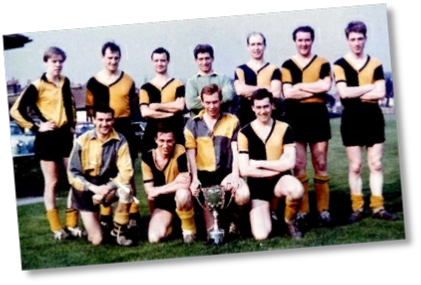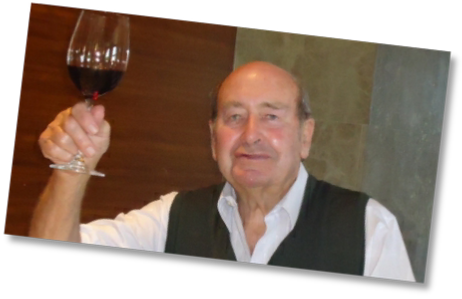 The Annual OWCA Dinner for 2015 will again be at the School in Victoria. The cost remains at £40 per person and we are anticipating another bumper event this year. Last year over 100 Old Boys and their guests attended together with retired and current staff.
The Dinner takes place in the School Hall and comprises an excellent 3 course meal followed by coffee and mints. There will also be a vegetarian option if you tell us in advance on the Booking Form. Wine, beer and any other drinks with your meal must be paid for separately. There will also be a full cash bar available downstairs in the School Dining Hall from 6.00 pm onwards and after the Dinner.
James Wilson is in his first full year as Headmaster of the School and will be joining us and bringing us up-to-date on events at the School and its current crop of future Old Westminster Citizens.
We have for sale OWCA ties which are available now by using the Booking Form. We still have a few copies of Chris Hare's witty and informative Centenary Book "The trouble with you boy is you don't like Latin!" containing lots of pictures and memories collected from many Old Boys and staff over a 100 year period. You can purchase a copy and collect it at the Dinner or we can post it to you. Proceeds go to benefit the OWCA.
Please bring your friends from School and the OWCFC with you as well as other guests you may choose (they do not have to be Old Boys). We do hope you will be able to join us at the School for a great evening and renew many of your old School friendships. If you know of any other Old Boys who might be interested in attending, please send Bob Blanchett their email or postal address and we will be happy to contact them. All these details have also been posted on our website at www.owca.org.uk The site is well worth a look as we have added many new pages and photos including all of those taken at last year's Dinner. We shall have a photographer for the evening and will be posting all those photos on the site as well.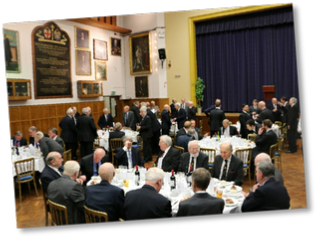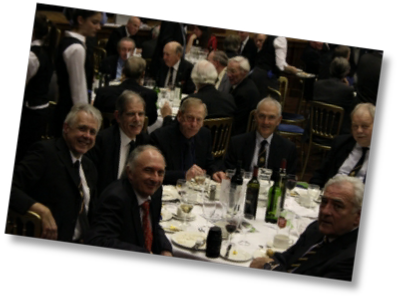 Having the Dinner at the School is more expensive than at a hotel with its own banqueting facilities (especially with 20% VAT) but has proved to be hugely popular with dinner attendees and, of course the location all adds to the memories! This cost along with our small number of guests, does put a burden on the Association's limited funds. There is provision on the Booking Form and any contributions which you can make towards these costs would be much appreciated by the Committee.
If you cannot come to the Dinner, please contact our Chairman, Bob Blanchett, at fortior@me.com or 07778 332379 and let us know where you are now and what you have been doing. We would be pleased to add your details to our database of Old Boys. If you would like information about a friend from School, please contact Bob who will try to put you in touch.
Otherwise, we hope very much to see you at the OWCA 2015 Dinner.
Please complete the Booking Form here and post it with your cheque or email it to our Treasurer, Ian Milne and send your payment electronically - BEFORE 20th March!
Note: If you cannot open the MS Word .doc above a printable .pdf version is here

2015 ANNUAL REUNION DINNER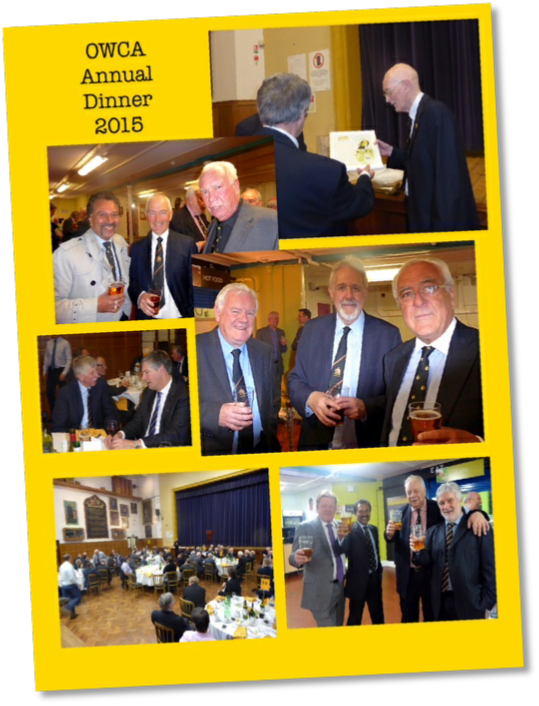 This report from Ian Milne….who, incidentally made a first class job of the Toastmaster duties…..
The 2015 Reunion Dinner took place on 27th March at the School and was attended by 90 Old Boys and their guests. This year the eras represented ranged from those who joined the school in 1939 to those who left in 2012. As ever friends made many years ago continue to support the Dinner and this year we were especially pleased to welcome some recent school leavers as well as the current headboy and headgirl.
Attendees gathered from 6pm for pre dinner drinks and copious amounts of nostalgic repartee! A splendid meal was prepared and served for the first time by the school caterers and arrangements for the wine and bar overseen by the school business manger Sue Manning. The result was a well organised and very enjoyable dinner. During the meal the current headmaster James Wilson followed the tradition of taking wine with members who were at the school at the time of his predecessors, as well as the retired staff present, the OWCFC and the Lodge. Following the loyal toast proposed by Derek Short, Chairman of the OWC Trust Fund, the headmaster responded by thanking the Trust for their donations and gave a review of how the funds had been used by the school. The head concluded by proposing the toast to the Old Boys.
A real high spot of a tremendously enjoyable evening was a special presentation to an OWCFC player celebrating 60 years of playing membership. Chris Hare gave a very amusing account of some of the highlights of Jock Henderson's amazing OWCFC football career and also filled us in on some of Jock's lesser known exploits. He then invited Doug Wordingham, who was a schoolboy contemporary of Jocks,' to present Jock with a 'Legends Trophy' and Jock's own unique and quite outstanding cartoon portrait and a caricature of Jock on a beach stone. These were created and drawn by ex OWCFC goal scorer Tony Brooks. Tony is a much respected artist now working and living in Hythe. A very popular member of OWCFC, it was great to welcome him to a reunion dinner.
A clearly surprised Jock responded to this unexpected honour with some well chosen words and heartfelt thanks. The Reverend Jim Jelley (a former chairman of OWCA) rounded off the speeches before proposing the toast to the School. The formal part of the evening was completed with the hearty singing of the school song, before retiring to the bar and recounting former times.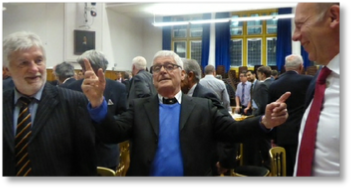 Thanks are due to the headmaster James Wilson for the use of the school for the Dinner and to those Old Boys who generously included donations with their dinner order. Particular thanks to Terry Forrester, Charles Harrison, Norman Bunton and Mick Gee who contributed but were not able to attend. This year the Association was able to provide a couple of bottles of complimentary wine to each table from a small legacy left to OWCA by Cecil Gittins who passed away in November 2014.
Thanks also to the dinner organisers, Ian Milne, Bob Blanchett and Chris Hare.
The tentative date for the 2016 extravaganza is Friday April 1 2016.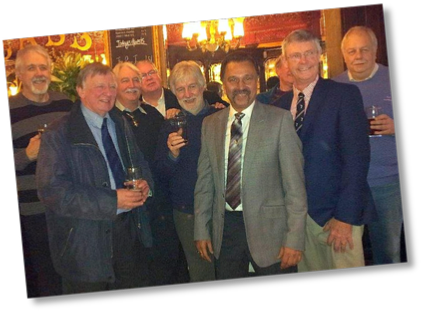 Brian Chubb was a much liked and respected sports master at WCS in the mid 1960s. As reported earlier on this site, Brian has been in touch after a gap of nearly fifty years! A reunion of some of his 60s' school footballers was organised in February to coincide with Barry Mitchell's visit from Australia. The Argyll pub in Oxford Street was the venue and a hugely enjoyable afternoon and evening ensued. We will have more pictures of the occasion soon when Chandra gets his camera sorted out! Meanwhile we have this shot taken by Barry's wife Corrine. Left to right; Chris Hare, Brian Key, Barry Mitchell, Angus Litster, Mike Sackett, Chandra Mutucamarana, John Lawrence(behind Chubb), Brian Chubb and Alan Reid. Chris Hare's wife Denise was also there and Steve Leach joined the party later. Brian has sent us literally hundreds of slides of his time with WCS. We are in the process of transferring them to disc and will create an archive in the gallery section soon. A truly memorable reunion - Brian intends to make the annual dinner next year. We so look forward to meeting up with him again.
The singing of the School song was filmed and has been posted on YouTube:
The piano accompaniment is by a fine musician and Old Boy Trevor Dawson who was excellent…the choir sadly tried to drag him down to our level!
The School provided a photographer and we should have his pictures for the site shortly. Meanwhile we have this collage taken by Tony Brooks and Tony leading the singing of the School song.

We are aware of three OWCs who were involved as candidates in the May 2015 elections. Two stood for parliament, the other as a councillor.
Wes Streeting, who entered WCS in 1994, won Ilford North for Labour beating the Conservative Lee Scott, who had held the seat since 2005. Wes overturned a Tory majority of more than 5,000 to take the seat. Wes polled 21,463 votes against the Conservative's 20,874.
Rob Bryant (at WCS1953 - 59) stood for UKIP in Beckenham where he came a creditable third behind Conservative and Labour candidates, beating the Lib/Dem into fourth place. Rob polled 6,108 votes, increasing the UKIP share by 9.3% from the 2010 general election.
Ronald Beadle (at WCS 1978 - 84) was re-elected Lib/Dem councillor for Low Fell in the North East of England. With this result Ron reversed the national trend which saw the Lib/Dems suffer greatly at the polls.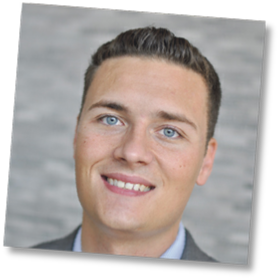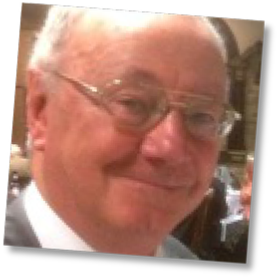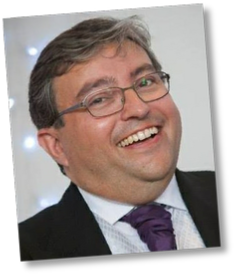 KEITH MACKENZIE DISCOVERED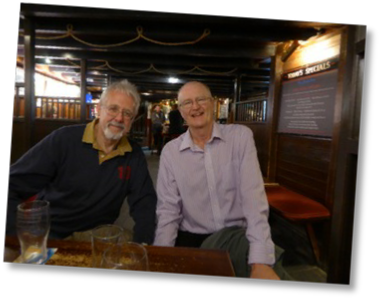 Keith Mackenzie attended WCS through the first half of the 1960s and played football for the school and the Old Boys. His brother Graham was also a talented footballer. Keith, known as ''Big Mac' before the hamburger chain coined the phrase, was a powerful Centre Half. His superb sense of humour made him very popular. Keith sort of disappeared off the OWCA radar in the late 1980s. Great efforts were made to find him, especially for the 2008 Centenary Dinner, all to no avail. However Chris Hare received a phone call on his mobile out of the blue earlier this year from Keith who had discovered the OWCA web site and got back in touch. Keith had become a senior Civil Servant - taken early retirement and moved to Cornwall. He now lives with his wife Jennyin the village of Threemilestone, near Truro. In early June Chris and his wife Denise spent a few days in St.Ives and Keith, Chris, Jenny and Denise were reunited, nearly thirty years after they last met. The picture was taken in a delightful 14th Century pub by the harbour in St Ives where they enjoyed an evening of good food, the odd dash of alcohol and great hilarity. We hope to get Keith along to the reunion dinner next year.

© 2015 Old Westminster Citizens Association (all rights reserved) pages by NetStyle